FAQ
If you have any more questions that we haven't answered below, then please contact us!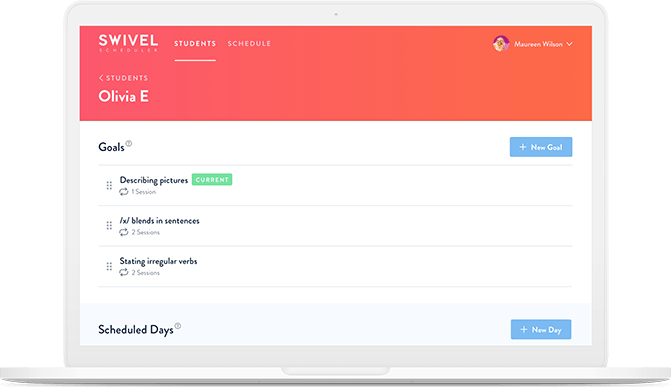 Looking for step-by-step tutorials?
Follow along on our YouTube channel.
Is Swivel HIPAA Compliant?
Yes! We use HIPAA Compliant servers and protections. Your privacy is our priority. We also meet criteria for FERPA, COPPA, SOPIPA, PPRA.
Can my school pay for my subscription?
What is a web-based app?
A web-based app is a fancy way of saying a platform you can access on any device. No need to download from the app store. Just open up a browser on your phone, tablet, or computer and log in!
How does Swivel help me as an SLP?
Juggling testing, screenings, reports, meetings, not to mention doing actual therapy and taking data is overwhelming and stressful. SWIVEL takes the stress of managing all your students' goals off of your shoulders. SWIVEL will tell you what goal every child needs to work on each day so you can have time to focus on your kids. The digital data graphs student progress in real-time and provides you with the calculations needed for Progress Reports and Annual Reviews! With features like copy and paste for billing, hyperlinking for digital activities, and more, you can get back to focusing on your kids and feeling effective.